Berry Gordy's Other Bass Player
Although The Funk Brothers' catalogue of classic bass lines is normally associated with James Jamerson, there was another guy on the scene whose lines deserve attention when considering the tradition of the bass guitar.
That man was Bob Babbitt, who worked on many Motown hits between 1966 and 1972, sharing the Funk Brothers' bass chair with Jamerson. During his tenure in Detroit, Babbitt added masterful bass lines to hits including Stevie Wonder's 'Signed, Sealed, Delivered', Gladys Knight & The Pips' 'Midnight Train To Georgia' and The Temptations' 'Ball of Confusion'.
1971 was a particularly significant year in Bob's career, where he not only managed to get away with recording a 90-second bass solo on a single release (Dennis Coffey's 'Scorpio') but also played on one of Motown's most important albums, Marvin Gaye's What's Going On.
Legendary among bass players for the tales of James Jamerson recording the title track's breathtaking bass part while lying on the floor because he was so drunk, What's Going On also includes some of Babbitt's best bass hooks on 'Mercy, Mercy Me' and 'Inner City Blues (Makes Me Wanna Holler)'.
Inner City Groove
Anchored by Bob Babbitt's syncopated yet smoothly articulated bass groove, 'Inner City Blues' forms part of the essential education for bassists studying what the masters of the instrument play on a one-chord vamp:
The main line is comprised of a phrase built from the chord tones of Ebm7 that has two endings (the first on a high Gb, the second on a low Eb). The thing that hits me when I listen to the track while looking through the transcription is how little variation there is on each repetition, giving Bob's warm Precision bass groove an almost hypnotic quality.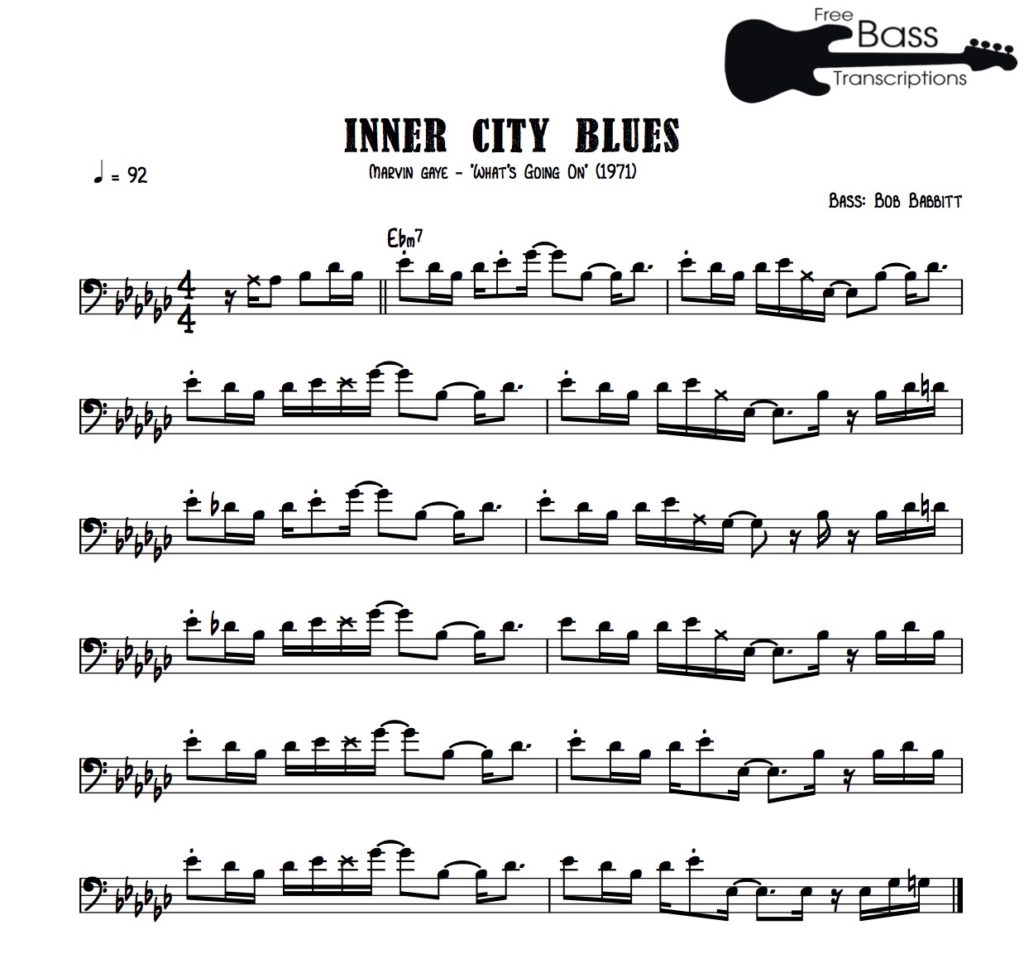 The line sits neatly in one position at the 11th fret apart from the low Gb in bar 6. As with everything that we ever play, being a stickler over note lengths will allow the line to feel right. Opt for a warm fingerstyle sound – roll the tone control on your bass down and move your right hand to pluck over the end of the fingerboard if your bass sounds too bright.
Later Years
Post-Motown, Bob managed to rack up over 25 Gold records playing for artists including Elton John, Frank Sinatra and Phil Collins and relocated to Nashville in 1986. His decision to take touring work during that period rather than remaining in town meant that his recording work began to wane, although the release of the 2002 documentary film 'Standing In The Shadows Of Motown' revived his career as people became interested in the men behind Motown's signature sound.
Bob Babbitt left us on July 16th, 2012.