Don Blackman's debut album (1982's Don Blackman) is one of a handful of discs that falls into the category of 'Records I Wish I'd Discovered 10 Years Earlier', along with Donny Hathaway's Extension of a Man, Pleasure's Future Now, and Chaka Khan's Naughty.
Not only does Don Blackman feature forward-looking, genre-hopping compositions, a roll-call of first rate session musicians (that's a young Dennis Chambers behind the kit) and consistently head-nodding bass playing but many of the tracks are laced with a sense of humour that seems to be sorely lacking in many artists' work.
The majority of the bass on the record is delivered with considerable style by Queens native Barry Johnson, who has worked with a number of artists, including Lenny White's Twennynine and Bernard Wright, but many readers will know him as the guy who stepped up to the challenge of touring with CHIC after Bernard Edwards' death. Not a high pressure bass gig by any means…
Check out Barry's incredible groove playing on Bernard Wright's 'Firebolt Hustle':
Having waxed lyrical about Barry's playing, it's worth noting that he's not actually responsible for this week's groove – the bass line on 'Yabba Dabba Doo' comes courtesy of Don Blackman on synth bass.
Synth bass? Sounds like an excuse to dust off some pedals and break out the fretless:
For the gear-curious among you, here's what I used to record this episode:
Bass: Ibanez GWB35 – usually these come in an attractive shade of 'none more black', but a previous owner had it stripped so it now resembles the more expensive Willis basses. I added a Nordstrand Big Blades pickup and an Aguilar OBP-2 preamp.
Octave Pedal: 3 Leaf Audio Octabvre MK1 set to solo the sub signal.
Fuzz Pedal: Way Huge Pork Loin
Here's how the A section groove looks written out: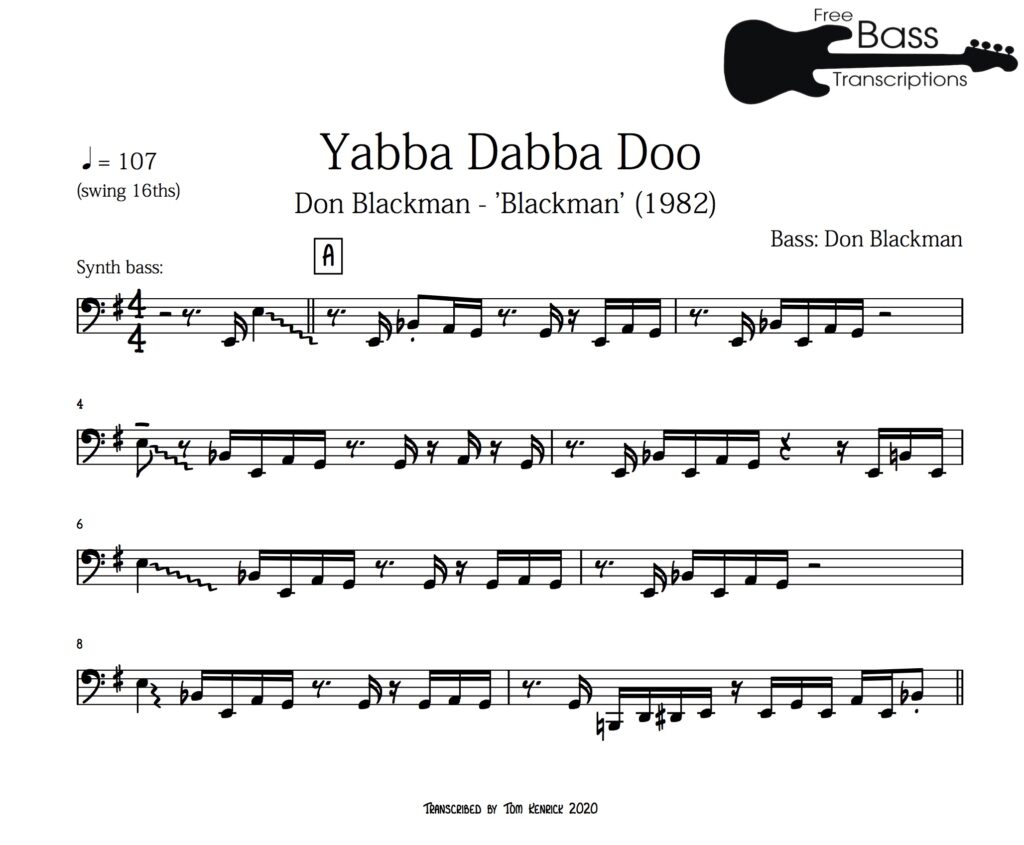 The first thing to clock is the all-important time-feel instruction: swing 16ths.
Also known as 'swung semiquavers' (if you're British and live in the 1950s) or 'swunk' (if you're stuck in a 1980s fusion timewarp), swing 16ths is a fairly common groove scenario that all bassists should be prepared for, as it can be challenging to make anything swing on a fretted string instrument.
The key lies in how you feel the underlying subdivision.
How to swing your 16th-notes
Although swing 16th-notes are still written like this:

The swing comes from a 16th-note triplet subdivision, which looks like this:

Or, this:

The secret to playing these rhythms correctly is to always have the physical feeling of the subdivision in your body regardless of what you're playing; I've heard musicians like Pat Metheny and Bob Reynolds talk about having a 'constant, churning wheel of triplets' inside them when they play swing 8ths, while Joe Dart talks about maintaining a 'militant' 16th-note subdivision when playing funk.
How do you develop this? Start slowly. Vocalise the subdivision along with a metronome, then clap it out. Next, try hearing it internally