In the 2nd post on unusual instructional books for electric bassists (part 1 can be found here) we're examining the benefits of Franz Simandl's 'New Method For The Double Bass'.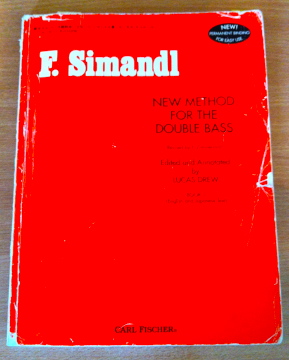 I discovered this book while studying with Austrian bass titan (and ibassmag contributor Stefan Redtenbacher and spent a long time working through it on electric bass years before I ever touched a double bass.
What's it about?
Way back in the early 1900s, Austrian double bass virtuoso and renowned educator Franz Simandl published his method for double bass, which offered bassists with a logical, incremental approach to mastering the instrument.
How is a 100-year-old double bass method relevant to modern electric bassists?
Many bass players have borrowed the '1 finger per fret' technique from the guitar, which in certain playing situations makes a lot of sense. The problem comes when trying to apply this concept in the lower positions of the bass where the frets are further apart – the popular '1234' chromatic finger exercises that are still prescribed by instructional books, bass magazines and some teachers place unnecessary strain on the left hand and wrist when applied in the lower portion of the fretboard.
I'm not alone in my hatred of these exercises – Dave Marks has made a couple of excellent videos on the subject:
Renowned bass educator Joe Hubbard also makes the point that these exercises also make no musical sense in this blog post. If you're not aware of Joe, his list of past students includes Pino Palladino, Paul Turner (Jamiroquai) and Dave Swift (Jools Holland). Not too shabby.
The alternative is to use the approach adopted by Simandl and other similar double bass methods – dividing the bass into a series of 3-fret positions and using position shifts rather than left hand stretching to reach notes that fall out of position. Horizontal shifting is one of the most fundamental aspects of bass playing but also one of the most awkward.
Being able to execute a horizontal position shift whilst maintaining a legato sound requires a great deal of attention to detail, and Simandl's etudes offer plenty of practice in this area.
Using Simandl's approach, the 3rd finger isn't used for fretting notes and instead supports the 4th finger. Applying this 'supportive fingering' concept to the electric bass leads to a more secure left-hand technique that reduces physical strain and (to my ears, at least) results in smoother, more effortless playing.
Benefit #1: adopting double bass technique reduces tension in the left hand, making your playing sound effortless and reducing the risk of injury.
Feel the benefit right now:
Let's compare 1fpf with the 3-fret span concept using an F major scale:

1fpf means that I have to stretch my 3rd finger out to reach the notes at the 3rd fret, which results in a sharp bend in my left wrist which decreases blood flow and increases strain on the hand: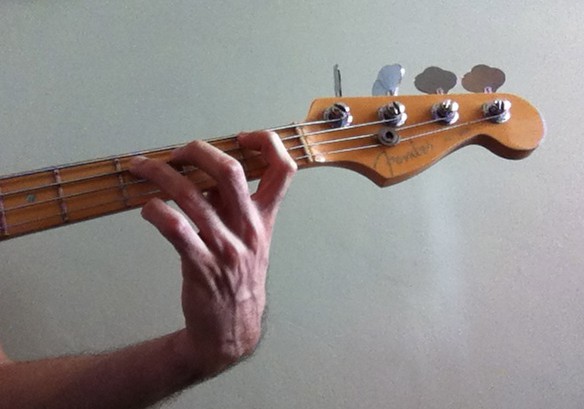 Adopting the idea of a 3-fret position allows me to reach all of the notes without stretching or straining my left hand: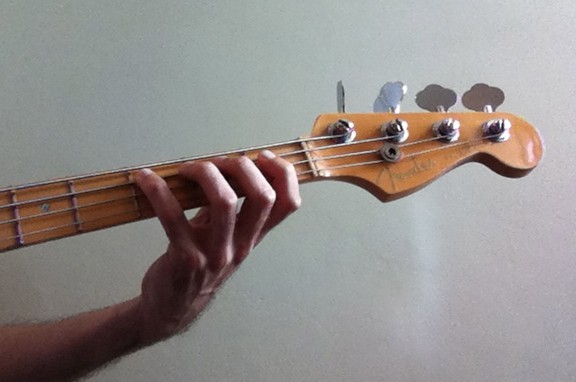 The Lost Art of Articulation
Studying Simandl's classical etudes also directs our attention towards two areas that electric bassists often neglect: articulation and dynamics.
Since the exercises are rhythmically simple, the entire focus is on producing a smooth, consistent sound from the instrument. Directing your attention towards note length can reveal a lot about your left-hand technique and force you to reevaluate your approach – playing a passage of crotchets with seamless transitions between notes might seem like an easy exercise but the reality is surprisingly difficult.
Benefit #2: paying attention to your note length and articulation will give you greater control over the sound of the bass and enable you to adapt your sound to suit a variety of musical situations.
In addition to solidifying my technique and improving my ability to articulate notes in a variety of ways, Simandl helped me to really understand how to play in a variety of keys across the entire range of the bass.
Benefit #3: Working through the positional etudes will help to solidify your knowledge of key signatures and how each key 'sits' in different areas of the neck.
The fact that the entire book deals exclusively with standard notation means that studying the etudes will automatically bolster your reading abilities and improve your knowledge of the fretboard. The bass is a surprisingly difficult instrument to read on due to the fact that a single pitch can be played in a variety of locations. Play this G:
Where is on the bass? Open G string? 5th fret D string? 10th fret A string? 15th fret E string?? It's all of them, and the deciding factors for a position are the notes that come before and after it.
Of course, you need to have a decent knowledge of the fretboard in order to know that these options are available to you, and some of them may be more appropriate than others. Reading music and having a working knowledge of the entire fretboard allows you the freedom to play music in the most appropriate way for you, rather than having positions and fingerings dictated by someone else. This is one of my main gripes with TAB – it's someone else's opinion of how I should play a line.
Veteran bassist Lee Sklar recently picked reading music as one of his top 5 skills for bassists.
Benefit #4: Working with standard notation improves your fretboard knowledge, increases your familiarity with different key signatures and allows you to easily access music written for other instruments.
I think you get the point, so I'll leave it there. You can get your copy of Simandl by clicking the links below:

Franz Simandl – New Method for the Double Bass book 1 (US Link | UK Link)
Do you have a favourite instructional book? Tell me about it!
I'm always interested to hear about different methods that have helped people develop musically. If there's a book that you love and feel deserves a wider audience then let me know by commenting on this post.