I have a confession to make: I'm an addict.
Over the last 15 years I've built a comprehensive library of instructional materials; books, DVDs, play-a-long CDs, online video lessons, VHS (yes, I'm that old). Here's a glimpse of part of my bookshelf: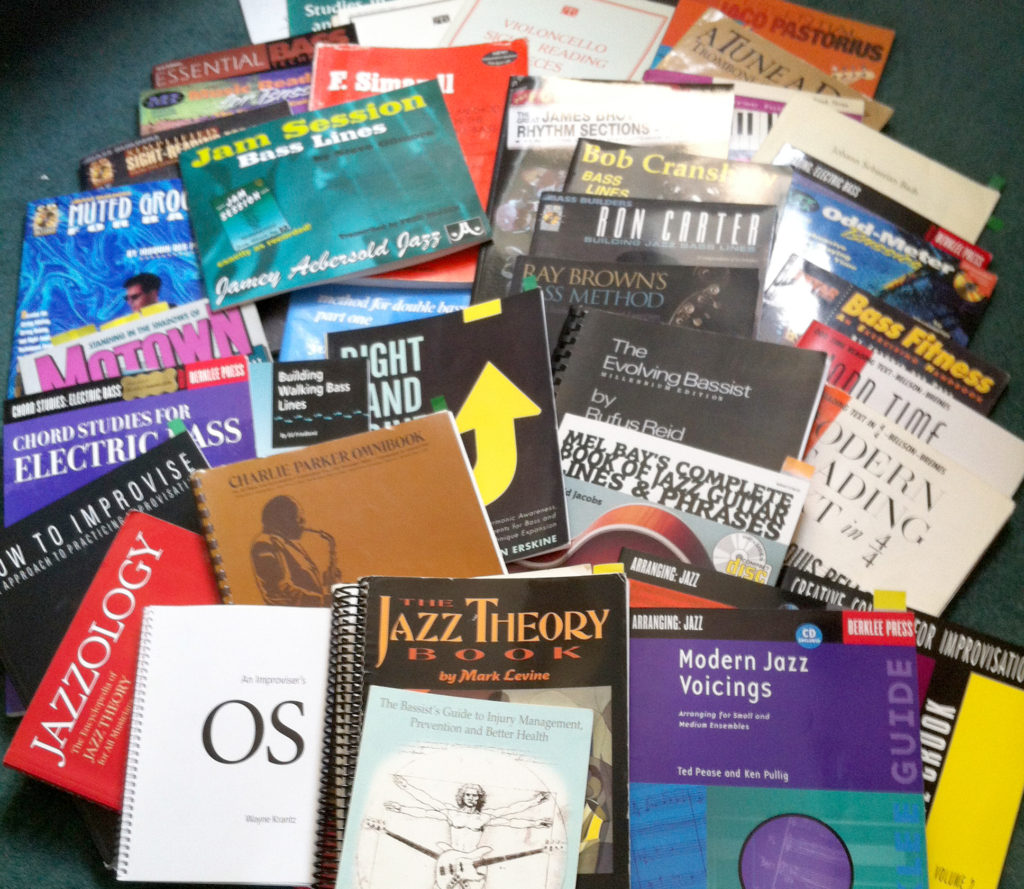 The problem is that I've never really used half of them; I find it difficult to stick to one method at a time, so most of the things I buy get retired to a bookshelf fairly swiftly.
Sound familiar? Then read on…
This series of posts books looks at the handful of books that have helped me make significant improvements to not only my bass playing but also my general musicianship.
One thing that they have in common is that none of them were written for electric bassists, which might well be the reason why I've found them so enlightening.
Part 1: 'The Advancing Guitarist' by Mick Goodrick
I'm going to go out on a limb and say that this is the best book I've ever read on any subject. It was recommended – or, more accurately, prescribed – to me by Richard Niles (whose work has sold more than 250 million records, so I try take his advice wherever possible).
You can buy The Advancing Guitarist here for just over £10. Do it. Now.
What's it about?
This book is so broad in its scope that it would actually be easier to list the things that it doesn't cover – there's enough material in 'The Advancing Guitarist' to keep you busy for several lifetimes.
These are the key areas that Mick Goodrick covers:
* Single string playing
* Positional playing
* Modal improvisation
* Intervals
* Triads, 7th chords, slash chords
* 'Commentaries' – short articles on a range of musical topics
Sounds just like every other guitar method book, right? Wrong.
What I love about this book is that it is the polar opposite of 99% of other instructional methods.
Rather than prescribing specific exercises, the author presents a series of musical topics and forces you to work out what to do with them. While this might sound like a cop out on his part, I found that it meant that I actually got much more out of the book – by having to find my own route through the material I found that I gained a deeper understanding of musical concepts that I'd seen numerous times before in other books.
How will it change my playing?
In my opinion, there are only two items of information that anyone needs to be a proficient guitarist (or bassist):
1. The notes used to construct different chord types
2. The location of those notes on the instrument
All other considerations (technique/articulation/phrasing/tone/vocabulary) are dependent on the style of music that you're playing and are, for the most part, subjective.
Is that a gross oversimplification? I don't think so.
The ugly truth is that most players fall short of the mark on point 1, and an extremely small number of people that I've encountered, including professional players and teachers, have a really thorough understanding of number 2.
Right from the outset, 'The Advancing Guitarist' forces you to constantly think about which note you're playing and how it relates to the chord that you're playing over. For me this was nothing short of life changing.
BENEFIT #1 – This book will drastically increase your fretboard knowledge, liberating you from playing the same old licks and patterns
Confused about modes? Join the club
In my experience as a teacher, modes seem to be one of the greatest sources of confusion for students; Learning the names is confusing enough, let alone understanding how to use them.
'The Advancing Guitarist' clearly explains the construction and derivation of the modes of the major, harmonic minor and melodic minor scales and presents a number of practical ways to apply them.
BENEFIT #2 – Modes will no longer be a mystery
Need help finding your voice?
For me the real value of working through the book on bass is that it forces me to work on things I rarely hear other bassists play but that (to my ears, at least) have a lot of musical value. There's plenty of discussion amongst musicians regarding the importance of finding your own 'voice' on your instrument, and several chapters of the book have allowed me to uncover things on the bass that I otherwise might never have explored.
BENEFIT #3 – Working through this book allows you to sound more like you and less like everyone else
'Commentaries'
The last section of the book is composed of a series of short articles on various aspects of musicianship, including (but not limited to):
* Time, tempo and rhythm
* Reflection and self-evaluation
* Improvisation and composition
* Technique
* How to approach different playing situations
It's rare that guitar books cross into the realm of philosophy, but I've found Goodrick's insights to be a great source of inspiration, particularly if I find myself stuck in a rut with practising.
BENEFIT #4 – Examining your playing beyond the 'nuts and bolts' level will improve your musicianship and give you a fresh perspective on how you approach the bass
Whilst it's obviously aimed squarely at guitarists, the book still works for bassists (and other stringed instruments) because it presents a series of musical topics and forces you to work out how they apply to your instrument. The information is presented in an extremely logical manner and everything is arranged to provide the reader with a clear sense of development as they work through the book.
'The Advancing Guitarist' is one of the only methods that I've come across which fully outlines both the complexities and the limitations of the guitar (or bass) and provides a progressive route to a greater understanding of how harmony applies to the instrument.
One more thing- it's also the funniest guitar book I've ever read. Always focused and succinct but never stale.
Do you have a favourite instructional book? Tell me about it!
I'm always interested to hear about different methods that have helped people develop musically. If there's a book (or VHS…) that you love and feel deserves a wider audience then let me know by commenting on this post.