Bass Player's Book Club Part 2: Sight Reading
Have you ever wondered what the best sight reading books for bass are, or how to practise sight reading? Episode 2 of the bass player's book club focuses on some of my favourite books for developing your sight reading skills and some strategies for using them with maximum efficiency in order to improve your sight reading as quickly as possible.
This post is not meant to debate the relative merits of TAB vs. notation. It might seem odd for someone who runs a bass transcription website to say it, but I don't actually believe that taking music in 'by eye' is the best way to do things. It is, however, very useful in a number of situations when you need to communicate musical ideas quickly. I also believe that being able to read is an integral part of being a well-rounded musician; people seem to be happy to nod along when someone trots out the very tired 'music is a language' analogy, but are often reluctant to actually do the work of learning how to read and write the language fluently.
Confessions of a Teen TAB-aholic
I took up the bass at the age of 14, largely because I was too scared to talk to girls and thought it would help (it didn't). I started having lessons at school with a guitar teacher who played a bit of bass and straight away I was introduced to TAB – what a great system! It tells you exactly where to place your fingers and out comes Green Day… What could be better?
Eventually, I found myself arriving at music college at the age of 19 with plenty of technique but very little musical ability. I suddenly found myself confronted with notation and realised that I had to get my reading together quickly if I didn't want to languish at the bottom of the class. Here are some strategies that helped me to get my act together – by the end of the first year, I had gone from zero reading ability to near the top of the class:
Five Tips for Better  Bass Sight Reading
1. Do it every day
If you don't do it enough, then it won't stick. Lectures didn't start till 11am, so I'd get up at 7.30, make a big cup of green tea and get lots of notes in my face for an hour or so. You don't have to put that much time in, but you have to do it regularly to have any hope of it becoming second nature (other hot beverages are also acceptable).
2. Separate Rhythm from Pitch
The two big variables that we're dealing with are the pitch of the note and its duration, so when learning the fundamentals of reading notation it's good to practise the two separately.
For pitch, I used to use Gary Willis' Xtreme Sight Reading page on his website, which randomly generates rows of pitches for you to play through. The range of notes and the probability of accidentals can be adjusted depending on your pain threshold (EDIT: he's now taken it down, if anyone can find it, then please get in touch):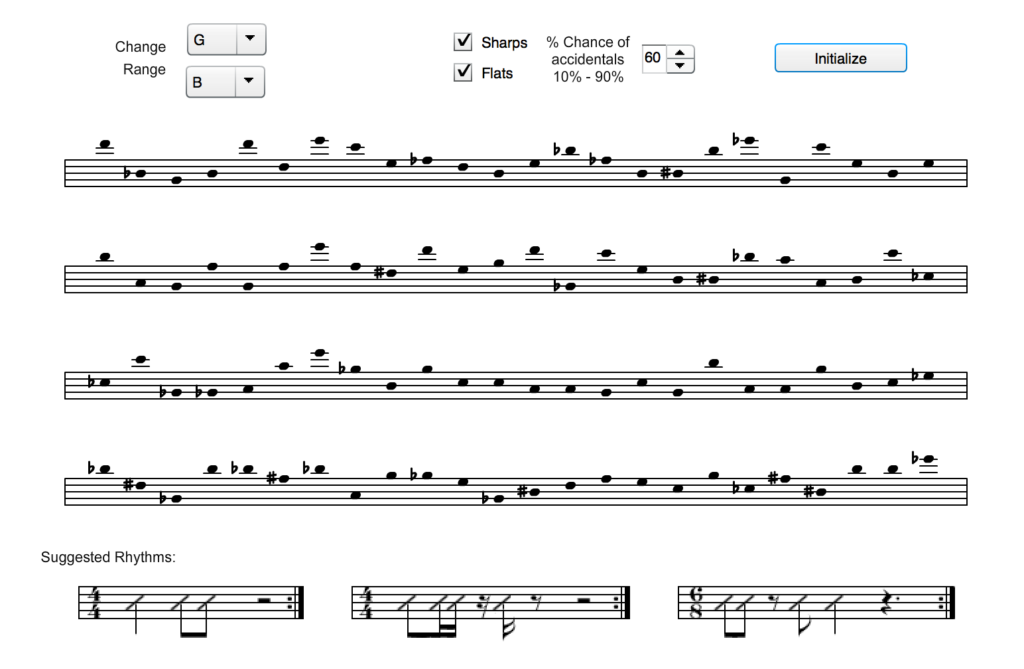 For rhythm, I used Louis Bellson's Modern Reading in 4/4 time (link further down the page), which focuses on reading syncopation. No pitch variation whatsoever, but it explores almost every rhythmic possibility from the simple to the vomit-inducing.
3. Read with a click
The main secret to sight reading is teaching your eyes to look ahead of where you are in the music; if you're looking at the note that you're playing, then there's no way that you can prepare for what's coming up. The only way that you can really develop this is by using a metronome when practising and not allowing yourself to go back and fix mistakes. This is good practice for 'real world' reading situations, where you can't go slow down difficult passages or go back and fix the wrong notes you just played.
4. Be Well Read
In order to become a well-rounded reader, it's important to expose yourself to a lot of different material; if you read classical studies all the time, then your rhythm reading skills might be lacking when it comes to read that Tower of Power chart.
5. Don't Just Read Bass Music
Try to read any sheet music you can get your hands on: piano/vocal scores, violin sonatas, trombone etudes – doesn't matter what it is – and work out how to fit it on your instrument. The sad reality is that nobody really cares about the bass player, so you have to stop expecting to show up at a gig and be given pristine bass clef charts that are nicely laid out. This is particularly true if you do any sort of musical theatre or cabaret engagement – they probably won't have the budget to buy in ensemble parts or the resources to have them written out, so most of the time you have to work from the rehearsal piano score. The MD will probably say something really helpful to you like 'well, the bass is just the left hand of the piano isn't it?'
If you've ever been in a piano score situation, you'll know that trying to construct your own part is an absolute nightmare – your survival depends on having a firm grasp on notes outside your range (super low left-hand octaves) and treble clef reading. In fact, treble clef reading is something that I'd recommend to everyone because most of the musical universe operates 'above ground' and you never know when you might get asked to take the melody on a tune you've never seen before. It's also a very useful skill if you're into taunting guitar players, which everybody should be.
My Top Sight Reading Books for Bass
Here are some of my favourite books that have helped me to develop my sight reading; I've grouped them roughly by ability level, so hopefully there's something for everyone. Since editions of some books differ between countries I've included separate links for US and UK where appropriate; environmental considerations aside, I'd recommend AVOIDING Kindle versions of these books, because in my experience the formatting of musical notation is always horrible. Opt for physical copies instead.
Beginner Sight Reading Books
1. Simplified Sight Reading for Bass by Josquin Des Pres (UK | US)
Although I trashed one of his other books in episode 1, I really like this one because it separates out rhythm and pitch to start with.
2. M.I. Music Reading For Bass by Wendi Hreschovic (UK | US)
Another good general method which drip feeds in accidentals, key signatures and other notational devices.
3. Modern Reading in 4/4 Time by Louis Bellson (UK | US)
This is a staple of drum instructional material, and it offers all musicians a great way to get their rhythm reading together without having to worry about pitch. This book is focused on developing skills in reading syncopated rhythms, starting with very approachable studies and building to horrible 32nd note phrases intersected with triplets.
4. New Method for Double Bass by Franz Simandl (UK | US)
I seem to talk about this book in every single post or video, but that's because it's the book that has had the biggest impact on the way that I approach the instrument in terms of technique, fretboard positioning and articulation.
Intermediate Sight Reading Books
If you feel like you've got a handle on the basics of reading and want to push your skills further, then these are worth a look:
5. Standing in the Shadows of Motown (UK | US)
James Jamerson was basically the first electric bass virtuoso, and these transcriptions of his lines provide a great reading workout; tons of rhythmic activity, lots of 16th-note syncopation and plenty of chromaticism. A great source of vocabulary, too.
6. 113 Etudes for Cello by J.J.F. Dotzauer (UK | US)
This was suggested to me as a good alternative to the very popular Hanon Virtuoso Pianist book, which became very popular with bass players when Janek Gwizdala revealed that he'd used it to build his not-inconsiderable technique. These are a good stepping stone between Simandl and more intense classical studies, which we'll get to later. Cello repertoire tends to be a great source of melodic reading material, but you'll need to do some transposing unless you have a 5-string bass because the cello is written at sounding pitch, while the electric and upright bass are both octave transposing.
7. 6 Suites for Violoncello by J.S. Bach (UK | US)
I'll put the Bach Cello Suites alongside this; tough to read and play and it seems like everyone just plays Prelude No.1 in G major, but Bach really knew a thing or two about thematic development so definitely worth a look – I've always approached them as long-term studies rather than everyday sight reading material.
Advanced Sight Reading Books
Anthony Vitti is a bass player who doesn't get nearly enough time in the spotlight; he's been teaching at The Berklee College of Music for decades and his books are some of the best around. His Finger Funk Workbooks are filled with demanding 16th-note lines, which can be a real challenge to both read and execute at tempo – studying these books is also a great way to develop your technique in a musical way.
10. Giovannini Bottesini Upright Bass Method (UK)
This is effectively a more advanced version of the Simandl book. Lots of technically demanding studies that contain plenty of position shifts and detailed phrase markings, which will really put your articulation skills to the test.
Extreme Sight Reading Books
If you're a seasoned reader who's feeling particularly masochistic, then here are 3 books to give you a real workout:
11. Odd Time Reading by Louis Bellson (UK | US)
Like the Modern Reading in 4/4 time, this takes a static pitch and moves it through almost every possible rhythmic permutation, except this time you have to do it in odd meters, and then the exercises start shifting between different odd meters. Horrible, but very nutritious.
12. 60 Melodic Etudes by John Patitucci (UK | US)
John Patitucci is one of a handful of players who is a true virtuoso on both upright and electric bass, so it's no surprise to find that his books are challenging; the 60 melodic etudes are designed to get your ears used to the sound of the major scale modes over their diatonic chord types in all 12 keys. Practising these studies over a drone or a static chord also serves as a great ear training tool, as well as a hardcore reading and technique workout. As the book title suggests, the etudes aren't that rhythmically taxing, but there's a huge pitch range and – unless you're playing a 6-string bass – you'll need to do a lot of position shifts.
13. Sight Reading Funk Rhythms by Anthony Vitti
Anthony Vitti brings the pain with this collection of studies that combine syncopated 16th-note funk rhythms with plenty of unexpected pitch variations; his favourite trick is to build a central motif and, just as you think you're getting the hang of it, he throws in subtle variations to trip you up. The sheer amount of rhythmic and melodic variation in these studies makes them difficult to memorise, making them ideal for sight reading practice.
If you have a favourite sight reading book that I've left out of this list then let me know in the comments below.