What is it?
The MXR M288 Bass Octave Deluxe is a dual-voice analogue octave pedal and some neat additions that give bass players an expanded take on the tried-and-tested octave pedal format.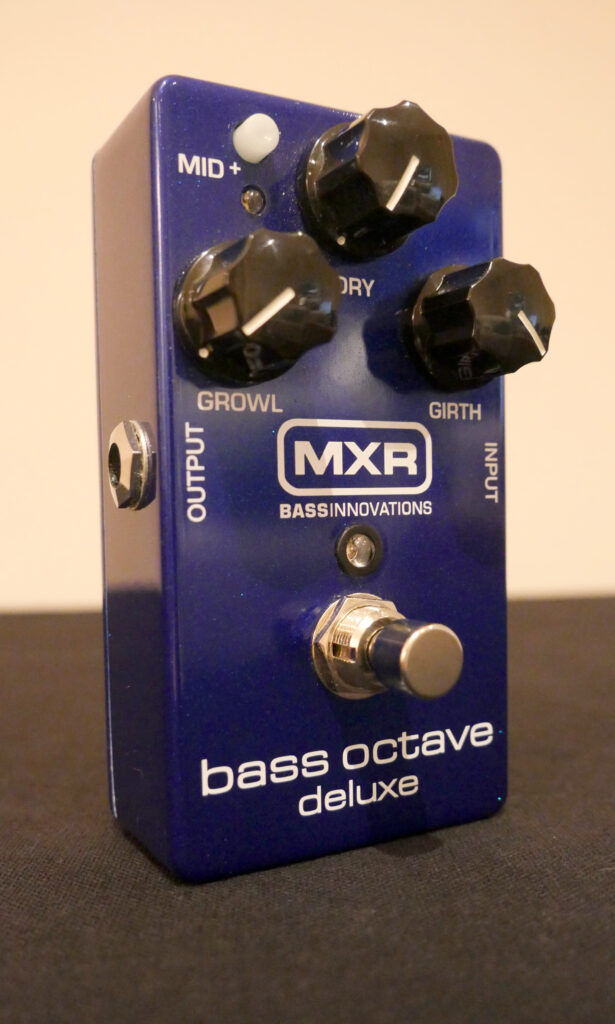 What Does It Do?
The pedal can be used to generate an additional signal one octave below that of your bass; you can control the levels of both the dry and effected signal in order to achieve your desired tone.
Why Would I Want One?
An octave pedal running 50/50 wet/dry signal adds thickness to lines played in the higher register of the bass, which is really useful if you play in a three- or four-piece band and want to fill more space. A 100% wet octave down signal will give you access to synth-like bass sounds, adding that extra element of authenticity when playing the bass line to any tune that was originally recorded on a keyboard (think 'Ain't Nobody' or 'Superstition' or even bloody 'Moves Like Jagger').
Connections
Standard 1/4″ jack cable input and output
Power
Again, totally standard: 9V DC power supply or 9V battery accessed by removing the pedal's rear plate.
Controls
The Bass Octave Deluxe has three main control knobs: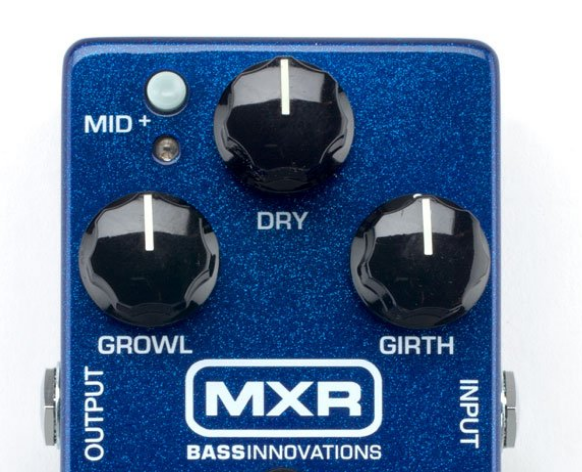 GROWL is the first of two independent, blendable sub-octave channels; MXR describes the voicing of the GROWL channel as a 'throaty, mid-range sub-octave'
GIRTH is the second sub-octave voice designed to provide a 'deep and smooth' octave tone
The GROWL and GIRTH voices are completely separate from one another and can be individually soloed or blended together to create a variety of tonal options.
DRY controls the volume of your original bass signal
In addition to the three main controls, MXR has also added the very practical MID+ button, which gives users a boost of up to 14dB to their dry signal at either 400Hz or 850Hz; both the amount of boost and the frequency can be adjusted via an internal trim pot and slider underneath the pedal's back panel.
Where Does It Go In My Chain?
Some octave pedals have difficulty tracking in certain parts of the fretboard or during faster passages of playing, so my preference is to put them near the start of the signal chain in order to get the best input signal possible. I also find that putting the octave before an envelope filter produces the best result when using both effects simultaneously.
How Much Does It Cost?
New: £139.00/$149.99
Used: £75-90/$85-100
Pros
Rugged Construction in a relatively small enclosure
Two blendable octave voices give a range of tones
MID+ boost gives the pedal added tonal flexibility
Blue LEDs are classy as hell
Cons
Some players might feel that the two octave channels are too similar in their voicings
What Are The Alternatives?
Nearly every major bass pedal manufacturer offers some sort of octave pedal, so there are lots of options: MXR also offers the M280 Vintage Bass Octave, which offers similar functionality to the legendary Boss OC-2 in a much smaller package; Boss offers the OC-3; Aguilar has the Octamizer; EHX has a variety of octaves in a range of sizes, with the Nano POG being one of the most popular.
For a round-up of five analogue octave pedals be sure to check out this comparison test: The Quest For The Brown Note – Can Anything Match The OC-2?