The site has overgone a major (and long overdue) facelift over the past few weeks – thank you for being patient during the downtime. The goal is to roll out lots of new content over the coming months including video lessons, instructional books and plenty of new bass transcriptions.
All of the original transcriptions and blog posts from the previous version of the site should still be intact – if you find that anything is missing, broken or just looks plain wrong then please shout at me.
I'm acutely aware that the Groove Of The Week series is woefully behind schedule, so let's get back to it.
Groove Of The Week #25: Jocelyn Brown – 'Somebody Else's Guy'

A while ago we examined the groove on Bruno Mars' 'Treasure', which featured frequent alternation between fingerstyle playing and popping. This 'half-slap' style of playing can be troublesome initially as it requires you to quickly change between two techniques that require your right hand to be at completely different angles.
Personally, I feel that it's worth persevering with the 'half-slap' as it offers a (marginally) more subtle alternative to conventional slap bass playing and requires less EQ-twiddling to get it to work in a live environment.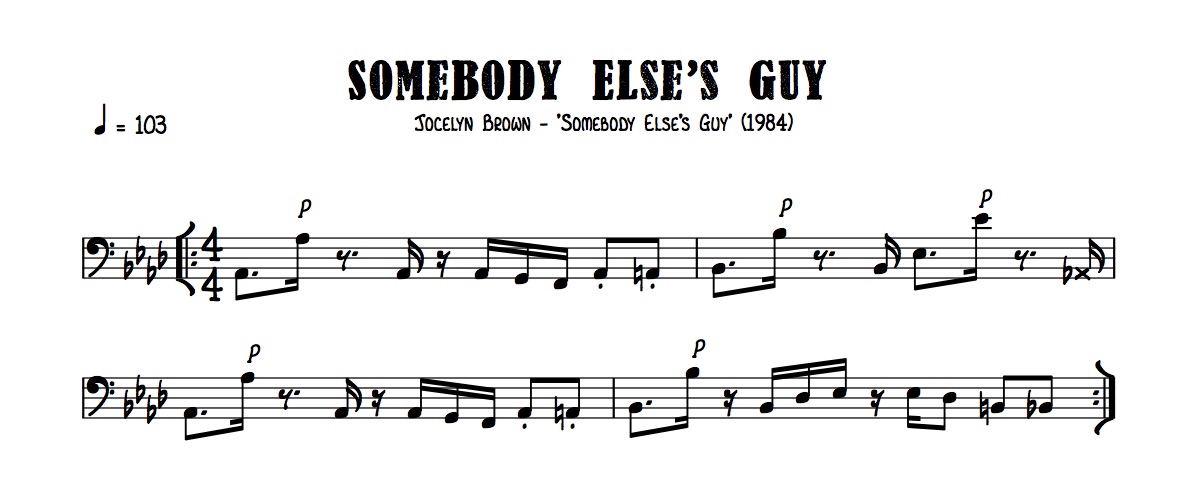 In spite of lots of googling, I couldn't find accurate credits for who actually played bass on the original. If anyone knows for sure then leave a comment below and I'll do you a FREE TRANSCRIPTION of your choice*
*Within reason. No Rush, please (not because their stuff is difficult,  I just can't STAND Geddy Lee). Ditto for Dream Theater.